Strong women stick together
Four TBBCF volunteers have received Athena Awards
By KATHLEEN EDGECOMB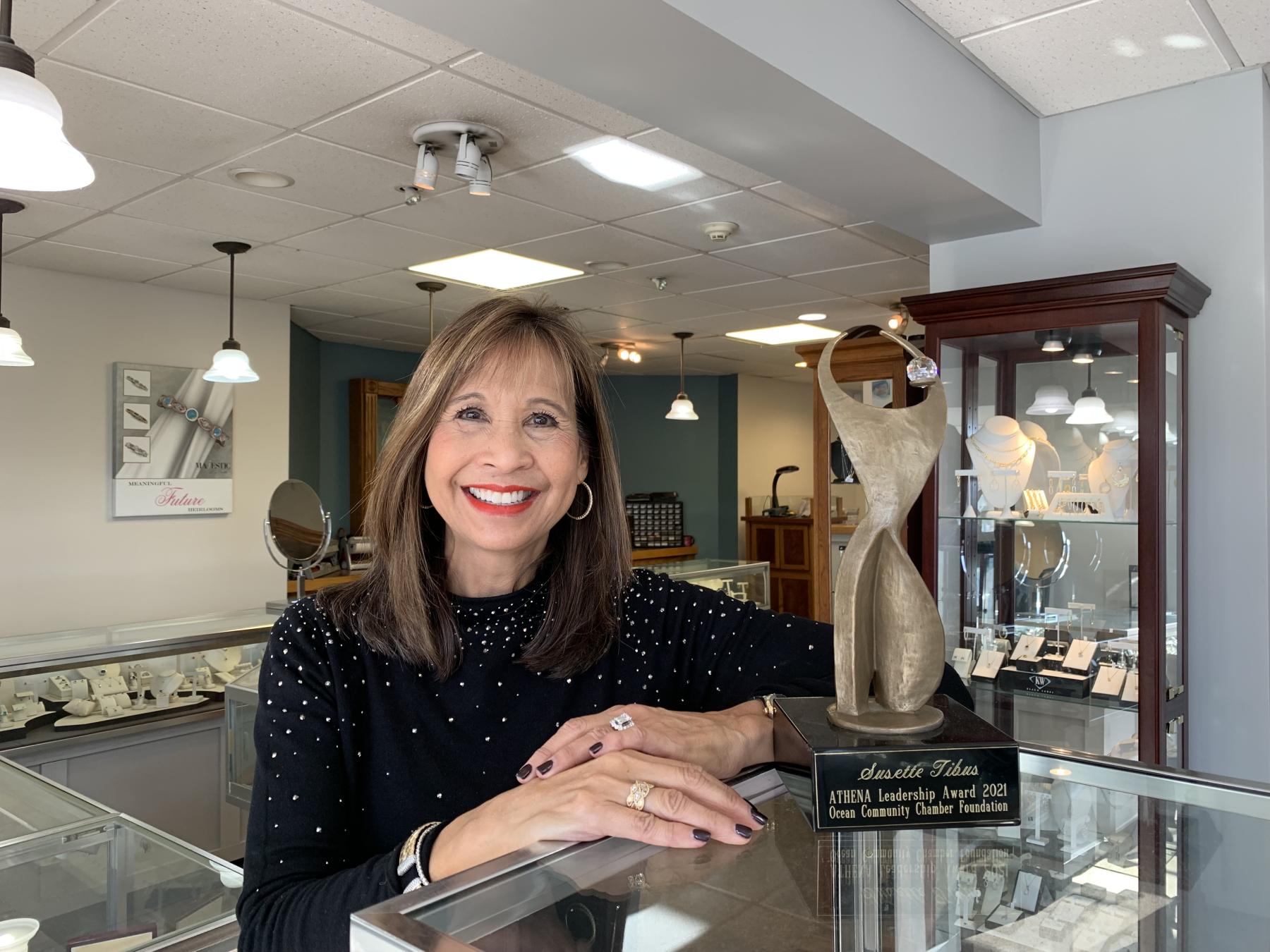 When Susette Tibus was honored with the 18th annual Athena Award from Ocean Community Chamber of Commerce Foundation on Nov 2, 2021, she became the fourth woman with ties to the Terri Brodeur Foundation to be recognized for her professional excellence, leadership and commitment to the community.
Tibus, the owner of Majestic Jewelers in Mystic, joins Sandy Maniscalco, co-founder of the Brodeur Foundation, who received the award in 2014; Marcie Brensilver, a founding member of the 15-year-old non-profit who was honored in 2016 and Tricia Cunningham, who received the award in 2018 and is a member of the Brodeur board of directors. Pictured l-r are Maniscalco, Brensilver and Cunningham.
TBBCF is dedicated to funding research to find a cure for breast cancer. Since its beginnings 15 years ago, scores of women have donated hundreds of hours and raised millions of dollars to fund research grants. To date, the foundation has raised more than $5 million for research. And strong women like Tibus, Maniscalco, Brensilver and Cunnngham are among the volunteers who have lent their expertise, organizing skills and community contacts to help the foundation.
"I think it's great testimony to who we are at the foundation and how important it is to support other women," said Maniscalco. She said she was surprised and honored to receive the award in 2014.
"I'm humbled to be in such company," she said recently.
Brensilver, a retired nurse and sexuality educator, was the honorary chair of the 2021 TBBCF Walk for a Cure. Every year she is the top individual fundraiser for the foundation, collecting nearly $200,000.
"It's about women supporting other women," said Cunningham who is the executive director of Always Home, a non-profit that helps prevent family homelessness. She has served on the TBBCF board for two years and has been master of ceremonies at the conclusion of several of the annual walkathon fundraisers.
The women involved with TBBCF are leaders who continuously support other women, Cunningham said.
"They are strong advocates," she said.
The Athena Award was founded in 1982 in Lansing MI to recognize outstanding business and professional women who also help create leadership opportunities for women.
Tibus, the honorary walk chair for the 2020 Brodeur virtual walk, has raised thousands for the foundation through jewelry promotions. In 2020, she raised more than $9,000 raffling off a pink pearl necklace and earrings. In 2009 she was master of ceremonies for the annual walk. She continues to advocate for the foundation.
While accepting the award, Tibus told the story of her mother, who lived a rich and privileged life in the Philippines until Japan invaded the country in 1941. Her mother and family fled their home with only the clothes on their backs. Eventually, her mom met and fell in love with a naval officer, and they moved to the United States, settling in Mystic.
She said they lived in a neighborhood where no one looked like them, her mother didn't drive, spoke broken English and cared for her family alone while her husband was on six-month deployments. She said she always thought of her dad as being the "strong one" but years later realized her mother also fit the role. Her mother taught her how to be resilient during adversity and encouraged her to use her gifts to help others.
"I credit my mom and dad with giving me a strong base," she said.
When her mother was diagnosed with breast cancer, Tibus watched as she battled the disease with dignity and grace. Her mother died from breast cancer in 1994. When Tibus was diagnosed with breast cancer in 2016, she fought hard, as her mother would have wanted her to.
"And I won," she cheerfully told those who had gathered to celebrate her award.
Tibus accepted the award on behalf of her mother "who was truly an Athena hero."
Also at the ceremony the chamber announced it was giving $500 donations to five nonprofits that Tibus has supported over the years. They are TBBCF, the Pawcatuck Neighborhood Center, Mystic Aquarium, Always Home and Hope in Focus.