TBBCF supporter wills $100,000 to foundation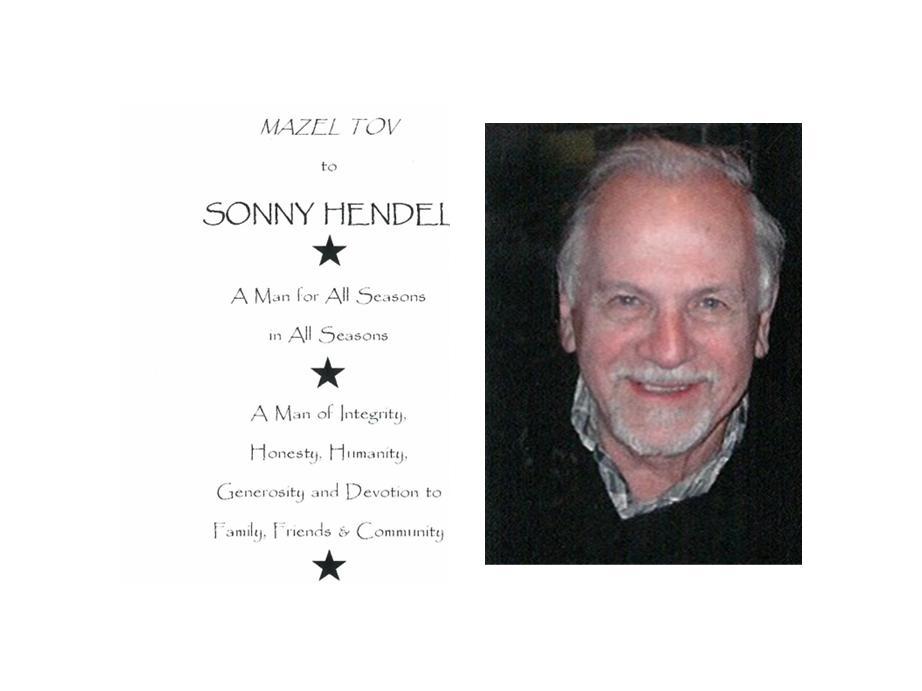 Sonny Hendel was always altruistic, even in death
By KATHLEEN EDGECOMB
By all accounts, the late Sander Hendel was a kind and generous soul who was devoted to his family, his community and his faith.
But when he left $100,000 in his will to the Terri Brodeur Breast Cancer Foundation, even those who knew him well were surprised.
"We had no idea he was going to do this," said Marcie Brensilver, a longtime friend. Sonny, as most knew him, always donated to Brensilver when she raised money for the TBBCF annual marathon. She said he gave generously and had probably donated hundreds of thousands of dollars to the foundation during the past 17 years. But she had no inkling that he would leave such a donation in his will to the foundation.
"He was a downright nice guy who was already so generous," she said. "He wanted to do whatever he could to help the cause."
Sonny Hendel's gift is the largest single donation the foundation has ever received. The non-profit foundation hands out two to four $100,000 grants each year to physicians and scientists who are treating breast cancer patients and trying to find a cure for the disease. Next year, the foundation will award a one-time Sonny Hendel Memorial Research Grant for $100,000, along with its other grants.
"On behalf of the Board of Directors, we are overwhelmed by this incredibly generous gift from Sonny Hendel," said Board Chairwoman Patti Burmahl. "The research he has previously contributed toward with his past donations, along with this full research grant named in his memory, will help lead to improved breast cancer treatment options and get us closer to a cure – that is quite a legacy."
Brenda Hendel said her late husband's two sisters each battled breast cancer, and he was good friends with Marcie Brensilver and her husband Howie, who is a founding member of TBBCF and a member of its board of directors. She said he liked that the foundation gives all the money it raises to research, and that nearly everyone involved with the non-profit is a volunteer.
"He was a wonderful husband, a great father and a good friend," Mrs. Hendel said.
Sonny Hendel was 91 when he died in June 2022. He grew up in New London and worked all his life in the family businesses – Old Mystic General Store, a toy store, ice cream shop — and later in life sold antique toys online.
During his memorial service at Congregation Ahavath Chesed in New London, many in the community stepped forward to praise him.
"Sonny Hendel was truly a pillar of our community," Martin Manley wrote in a "Tribute to Sonny Hendel." "He was a man of great generosity and kindness, always ready with a smile and a good word."
Anita Miller, who grew up near Hendel in New London and always called him Mr. Hendel, said he was a friend of her father's who regularly patronized their family-owned restaurants and alway had a friendly word for the workers.
"In every conversation we had, he asked how my family was and ended every conversation with 'Be well.' He will be missed tremendously," she said.
Jay Tcath said his cousin never called attention to any good deed he undertook. He only wanted to have a positive impact. While his headstone will say only the facts of his birth, death and family ties, Tcath said, "his righteous legacy is forever engraved in the hearts of all of us blessed to have known him." 
At his Bar Mitzvah in 1943, when he was just 13 years old, Sonny Hendel pledged to stand by his Jewish faith and lead a life based on principles of the Torah. He vowed that the deeds in his life would reflect a love of humanity, truth and peace. "These shall be my stands in life, I shall not deviate from them."
"He was a sweetheart and everyone loved him,"  his longtime friend Howie Brensilver said.