October 2018 Newsletter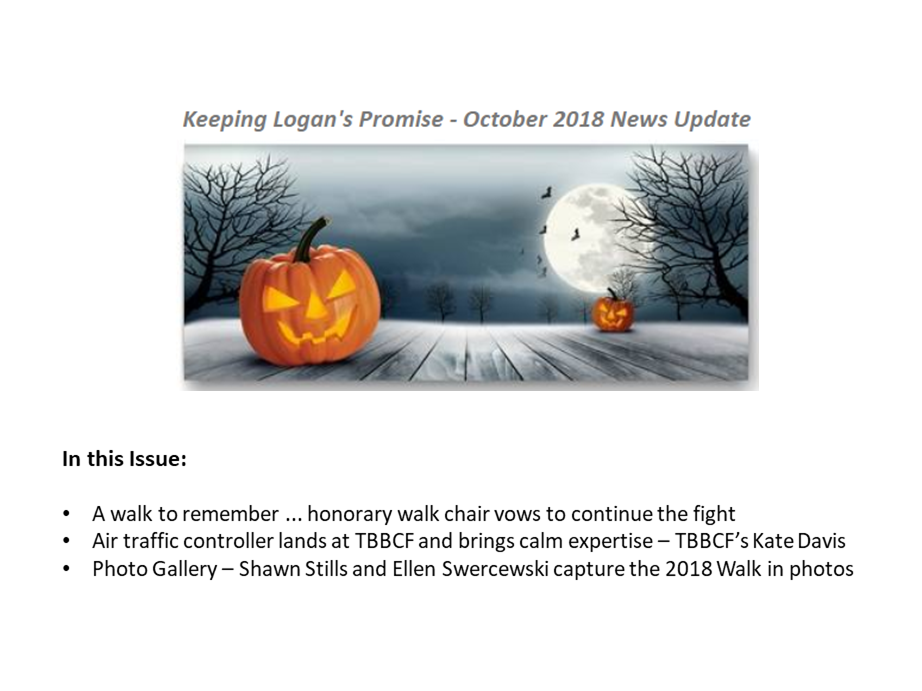 Dear Supporters,
Number 13 is in the books. October 6 was our 13th annual Walk Across Southeastern Connecticut. And what a beautiful day it was. Three hundred walkers completed the full, half or quarter marathon and to date we have raised over $200,000. Remember, you have until December 31, 2018 to Support a Walker.
This year was especially meaningful for me. This 76-year-old walked the full marathon, first time since 2010. I know for certain that I never could have accomplished this goal had I not taken advantage of the volunteer supported training walks in August and September. Crossing the finish line was a real thrill.
This month we highlight our walkers and all the volunteers who made the marathon a success. And what better way to showcase these amazing individuals than to share our photo gallery with you. Special heartfelt thanks to Shawn Stiles and Ellen Swercewski for capturing the magic.
Our honorary walk chair, Johanna D'Addario shares her thoughts about the walk, what it meant to her and her commitment to TBBCF.
And we bring you the story of a surprise we got in the mail – an unsolicited $715 check from the employees of Charter Oak Credit Union in honor of our friend, Aimee Reed, who died in August.
Finally, we take a few minutes to appreciate our Director of Operations and Walk Chair, Kate Davis, who brought all the skills of her former career as an air traffic controller to TBBCF.
  Sincerely, Sandy Maniscalco – TBBCF Co-founder

A walk to remember … honorary walk chair vows to continue the fight 
Johanna D'Addario, honorary chair of the 2018 Walk Across Southeastern Connecticut, was happy when she crossed the finish line at the Terri Brodeur Breast Cancer Foundation's annual walkathon on Oct. 6, 2018. Flanked by her mother, her husband and her oncologist, D'Addario, a two-time cancer survivor, was proud to have walked a half marathon and to have raised thousands of dollars for breast cancer research.
But when she took the microphone during the closing ceremony a short time later, she was overcome with emotion. She said she did not want to spread false hope because her cancer was caught early and she was healthy enough to walk the half marathon; because today's reality is not everyone survives.
Breast cancer still kills thousands of women every year, and this year TBBCF lost two devoted supporters.  Aimee Reed who died Aug. 29, 2018, at the age of 34, and Cynthia Ulrich, who died June 10, 2018, at age 65.  
Full Story

Air traffic controller lands at TBBCF and brings calm expertise
By KATHLEEN EDGECOMB
There's something you should know about Kate Davis, the director of operations and walk chair at Terri Brodeur Breast Cancer Foundation. She used to be an air traffic controller.
That might explain how competently she's been managing the day-to-day operations of the non-profit organization and how the 13th annual Walk Across Southeastern Connecticut on Oct. 6, 2018, went off so smoothly.
But there is something else you should know about her. She is funny, kind, a quick study, and as passionate about TBBCF's mission to fund research to find a cure for breast cancer as those who started TBBCF in 2006.
"She has breathed new life into the organization," said Sandy Maniscalco, a co- founder of TBBCF. "She's a good project manager and she's good at motivating the people on her team."
Davis, who joined TBBCF last year, said, "it was really hard not to be hooked" after meeting those that founded the group and those who continue to volunteer and dedicate time and money for the cause. TBBCF, based in New London, gives 100 percent of its gross fundraising dollars directly to breast cancer research.  "I really love what they've built," Davis said. "It's an honor to step into their shoes."  Davis said TBBCF has grown from a grassroots group to a nationally recognized organization that is known to researchers from across the country.  "It's big time," she said. 
Full Story
.
If a picture is worth a thousand words, here are links to millions of words
As we come to the close of another walk and breast cancer awareness season, we wanted to take a moment to remind everyone walk photos are now available at 
2018 Walk Photos
.  Our heartfelt thanks to Shawn Stiles for another great job capturing the spirit of the 2018 TBBCF walk!  You rock, Shawn!
And what would we do without Ellen Swercewski … I can't even begin to list all that she does throughout the year but especially during walker training and on walk day.  You can view 
Ellen's mobile uploads
 and 
videos 
on the TBBCF Facebook Page.
Charter Oak Employees dress down to raise funds for TBBCF
By KATHLEEN EDGECOMB
The check was in the mail – a $715 donation from the employees of Charter Oak Federal Credit Union in honor of Aimee Reed, who died of breast cancer Aug. 29, 2018, and who had close ties to the Terri Brodeur Breast Cancer Foundation.
Sandy Maniscalco, the co-founder of TBBCF, was in awe, and then grateful when she saw the check.  "It's an incredible gesture by Charter Oak employees." said Maniscalco. "It's very meaningful to have them recognize Aimee Reed. She was a big loss for us. It's another example of how they care."
The credit union is a Ruby Sponsor of TBBCF, which means it donates $500 a year to the nonprofit. Charter Oak also matches customers' donations, last year giving more than $5,000 to the non-profit.  
Full Story
 .